News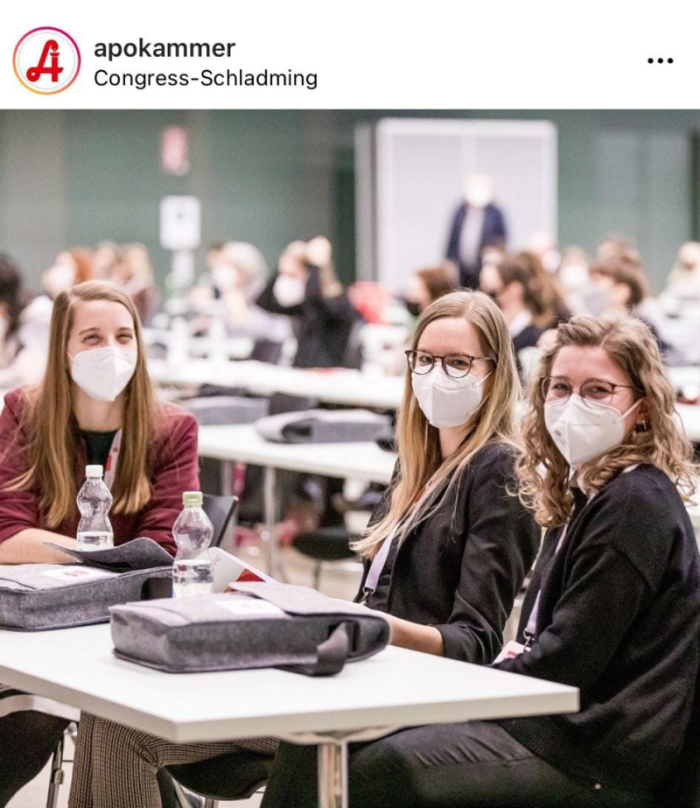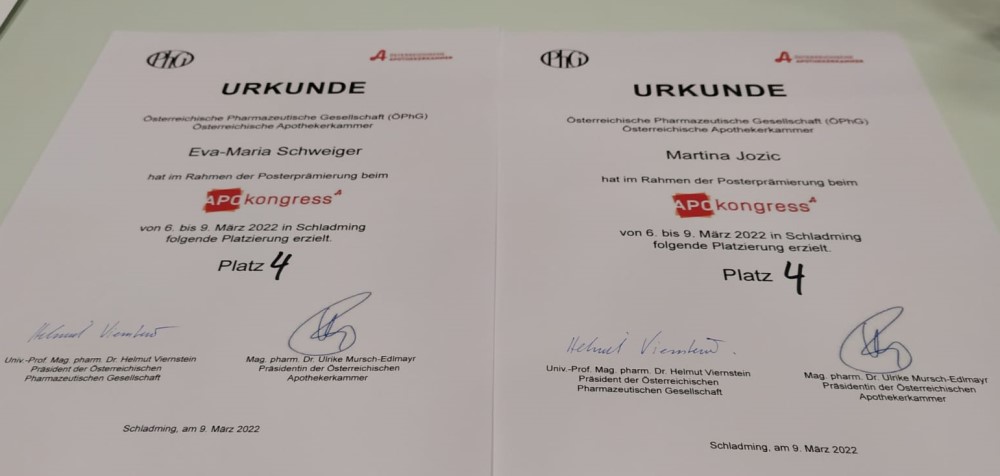 Apo⋅Congress (Schladming), March 2022
The Department of Pharmaceutical Sciences, Division of Pharmaceutical Technology and Biopharmaceutics, supports collaborative efforts and transfer of knowledge to colleagues working in pharmaceutical practice. Eva-Maria Schweiger and Tina Jozic have presented their research on dermal preparations for antioxidative and wound healing applications at the annual meeting held in Schladming, Austria. We congratulate them on their poster price and wish them further success with their work.
https://www.apothekerkammer.at/aktuelles/news/apokongress-schladming
Un·Earthing (pharmakon), 2021
University of Vienna, Division of Pharmaceutical Technology collaborate with the Artist Ralo Mayer in the creation of his piece "Un-Earthing (pharmakon) (2021) commissioned for the Exhibition "The World is in You" at the medical Museion at Kunsthal Charlottenborg, Copenhagen, Denmark. The exhibition runs from 30 sep - 16 jan 2022.
Please find infos and teaser below:
Filmic teaser
THE WORLD IS IN YOU
Medical Museion at Kunsthal Charlottenborg
30 sep – 16 jan 2022
Opening: 29 sep 2021 12:00
Participating artists: Mediated Matter Group/Neri Oxman, Ralo Mayer, Katie Paterson, Bradley Pitts, Lucy McRae, Kathy High, Jiwon Woo, Sonja Bäumel, Baum & Leahy, Guston Sondin-Kung, Marcus Coates, Susan Morris, Till Rabus, Heath Bunting, Isabella Martin, Maya Sialuk Jacobsen, Kaitlynn Redell, Mary Maggic, Pinar Yoldas, Mogens Jacobsen, Anna Dumitriu, Andrew Carnie, Jenna Sutela, Luke Jerram, Revital Cohen & Tuur Van Balen, Tine Friis & Eduardo Abrantes, Sofie Louise Dam.
Curated by: Adam Bencard, Jacob Lillemose, Kristin Hussey, Malthe Kouassi Bjerregaard
https://www.museion.ku.dk/en/the-world-is-in-you/
https://kunsthalcharlottenborg.dk/en/exhibitions/the-world-is-in-you/
Un·Earthing (pharmakon), 2021
Meteorites and meteorite dust from the Moon, Mars and Asteroid belt, effervescent tablets, suppositories, pharmaceutical tools, Kapton tape, ceramic tile; Video with sound, 4K, 14 min.
Camera and light: Victor Jaschke
Pharmaceuticals in collaboration with the Dept. of Pharmaceutical Sciences, University of Vienna / Andreas Schirmbrand, Victoria Klang, Gabriela Hädrich, Lea Ann Dailey
Ceramics: Gerald Pfaffl
Archival research: David Kellner
Packaging: Jaco Packaging / WEPA Apothekenbedarf
Un·Earthing (playsuit for Mars), 2021
Knitted toddler playsuit and tapestry
Suit design: Lisi Lang
Knitting: Veronika Persché
The production of works was additionally supported by the Austrian Federal Ministry for Arts, Culture, the Civil Service and Sport / BMKOES.